Making disciples that make disciples
Welcome!
Welcome to our website. We're delighted to have you visit our site, and hope you find it useful. Please contact us if we can be of any help to you, and be sure to explore the resources available here.
Reaching Others
This is your chance to get out into the community and share the good news about Jesus Christ. We have several times throughout the week for both door knocking and street witnessing.
Discouragement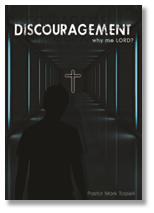 Do you suffer from discouragement on a regular basis? Do you ever go through depression? The truth is that many Christians suffer in this way, as Pastor Mark himself will testify. This booklet on discouragement and depression will help you to understand what you are going through, and instruct you on how to deal with the valleys of life.
For more information or to order a copy please contact us. The booklet can also be downloaded as a PDF.
Our Location
We are located in Philip Bay which is part of the lower Eastern Suburbs of Sydney. For details of our address and also some public transport options please see our Location page.
Coming Events
Morning Service

Afternoon Service

Morning Service

Afternoon Service

Morning Service

Afternoon Service